Thursday 23rd November, 2017
Published on 20 November 2017 on RTÉ Culture. Full article available on: https://www.rte.ie/culture/2017/1120/921494-celebrating-crash-ensemble-at-20/
Crash Ensemble is Ireland's leading new music ensemble; a group of world-class musicians who play the most adventurous, ground-breaking music of today. Ahead of their 20th birthday celebrations at Dublin's National Concert Hall, Crash founder Donnacha Dennehy looks back at two decades spent making a beautiful noise.
It is hard to believe that Crash Ensemble is now 20 years old. I remember, as if it were only last month, the first concert we ever gave - at the Samuel Beckett Theatre on 23 October 1997. Ireland was in the midst of the so-called Celtic Tiger boom then. I had just returned a year earlier from studies abroad, principally at grad school in America, and the sense of optimism in the air in Dublin was palpable. For the first time in my life, it felt as if we could really think big things at home and maybe even make them happen!
Of course, it turns out that much of the Celtic Tiger was simply a mirage (and a deeply inequitable one too, it transpired) but thankfully Crash Ensemble was not just a flash in the pan, as some at the time warned in fact, but has very much persisted.
Crash Ensemble was born out of a kind of naïve and enthusiastic idealism. We did not really know what we were doing. I had just turned 27, and was excited about the idea of creating a new vehicle for contemporary music in Ireland. I founded it with my good friend, Andrew Synnott (a conductor and composer) and Michael Seaver (a clarinetist with an abiding interest in new music). They in vain tried to temper my enthusiasm when I declared that I was certain that we were going to sell out our first show. In the end, as it turned out, we actually had to turn away people from the concert, consisting of music by Louis Andriessen, Roger Doyle and myself.
Maybe it helped that at the time, I was a lecturer in music and media technology at Trinity, and I had enthused a large enough body of the students into going! It didn't hurt too that Louis Andriessen, the celebrated Dutch composer, was present for the concert – Louis was a visiting composer at Trinity for the week. Although Louis was incredibly encouraging, I dread to think what he truly made of the renditions of his music at the concert, as it really was our first time organizing anything like this.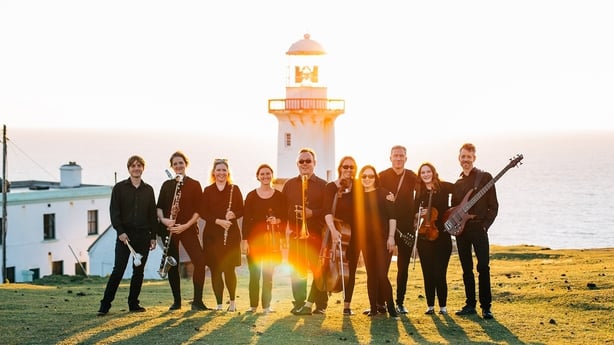 Crash Ensemble on Arranmore Island, Co. Donegal, where they performed as part of their 'Crashlands' to of Ireland
I remember roping in a bunch of my grad students to do the sound, lighting and everything: it had a kind of seat-of-the-pants energy, but we were definitely tapping into a desire for something new, creative and adventurous in Dublin at that time, and already the first concert kickstarted a strong interest among the new-music and "classical" community at large in what Crash Ensemble were doing and moreover, were capable of doing. The following year we qualified for Arts Council support, and slowly began to build a more consistent organization for the group.
Some of the players from that original concert have remained till this day: John Godfrey (a wunderkind from the iconic English group Icebreaker who just happened to be a lecturer in UCC in Cork too); Roddy O'Keefe (our trombonist who played on the very first performance of my Junk Box Fraud), Susan Doyle (our intrepid flautist) and Malachy Robinson (our unflappable bassist). Others joined in various gigs that followed, and gradually we built up a reasonably consistent instrumentation. I don't know if Kate Ellis realized that when she joined the group in the early 2000s she would eventually end up as its Artistic Director once I stood down from that position to join the music faculty at Princeton. But knowing Kate, she probably quietly knew!
There are so many great memories from many Crash Ensemble concerts, recordings and events over the year, and the Ensemble still has a legendary capacity to party as fiercely as it can concentrate on the most complex new music!
Some special moments that stick out for me include the Irish premiere of Hans Abrahamsen's crystalline Schnee, finishing just as the bells tolled midnight outside on a cold March night; the irate man loudly opening a packet of crisps or something like that during a performance of John Cage's silent 4'33" at one of the early, memorable concerts at the Project at the Mint (a barely renovated old snooker hall); recording David Lang's Forced March at Windmill Lane with a very good-natured David in the booth; the wonderful performance at the Kennedy Center with Dawn Upshaw that Alan Pierson conducted in his socks (he apparently left his shoes at the hotel, though how he ever made it from the hotel to the venue without noticing escapes me!); Frances Mitchell organizing for a crate of beer to meet a very appreciative Crash Ensemble when (after a 24-hour journey) we arrived in Australia for a little tour in 2008; our 14-hour marathon to celebrate the 10th anniversary of the group in 2007; Feldman and Beckett's Words and Music with the phenomenal Owen Roe and Barry McGovern at IMMA; Gerald Barry's Intelligence Park, also at IMMA; Crash Ensemble continuing the party for most of a long night after delivering an addictively energetic premiere of The Last Hotel at the Edinburgh Festival.
And that really is just the tip of the iceberg. May the next twenty years bring plenty more memories!
………………….
Crash Ensemble perform twenty new works written for their 20th birthday, over two nights, Friday 24th and Saturday 25th November at the National Concert Hall, Dublin - more info here, and find out about Crash's upcoming gigs, recordings and adventures here.